01
your space
It isn't just apartments we are building, this is an entirely unique project in our Polish reality – an estate for generations.

As we look at our contemporary society we see it is increasingly busy with a declining amount of free time at its disposal.
This is why we decided to make a self-sufficient part of the city that will be an ideal place to live in. Key aspects that make it so include a perfect location, a plentiful services infrastructure within the estate, and areas specifically dedicated to the residents: a community club, recreational and leisure areas with lots of greenery and street furniture, passageways and bicycle paths.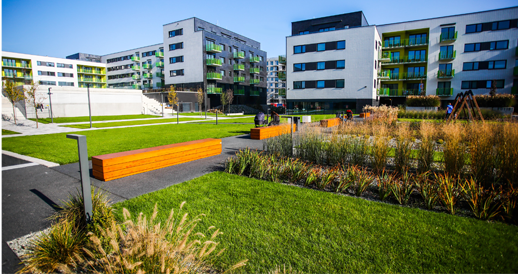 There will be no fences, no artificial barriers, which will also help create a local community. One comprised of people with diverse needs, in different age groups, but all wanting to build a community of neighbours.
The approach we exhibit in the development of the Visionaries Estate has already been awarded by four European Property Awards in the Residential Development category for its high value in architecture and the estate philosophy based in some of the best urban planning traditions (2018, 2019, 2020, 2021). It is also the only estate to date in Krakow to receive the title of Family Friendly Place (Miejsce Przyjazne Rodzinom z Dziećmi). We collected that title three times (2019, 2020, 2021)!
02
accessibility of services
Shops and a bakery just around the corner, a nursery and kindergarten close to home, a car wash with door-to-door service, many other commerce and service businesses are all in close vicinity to the estate.

Already during the design phase of our investment, with our residents' comfort and time management in mind, we've made sure to include well placed services throughout every stage of the development. The order of appearance of these amenities is therefore entirely deliberate and subordinated to our residents' most urgent needs.
Aside from those still under development, like a kindergarten, restaurants, a medical facility, hair and beauty salons; amenities that were most anticipated are already up and running. The first to be opened were a department store supplied with health foods and bread from our estate-based bakery, a nursery which was opened in the beginning of 2020 as a public institution, a car wash, and even a self-service laundry facility and café which both operate as part of the K2O community club.







03
community club for residents
A deep belief in the importance of local communities constantly guided us in the development of the Visionaries Estate. In order to help integrate the residents we have opened the country's first modern estate community club – gen. 2.0.

The K2O community club currently measures 320 m² and is a dedicated space on the ground floor of the D building in the Visionaries Stage. It comprises of a café, an integrational area which is specifically dedicated to our youngest residents and their parents, and a multi-functional room. The latter can be used for any purpose within the range of events, classes, co-working, or recreation like using the facility's ping-pong or billiard tables. It can also be rented by the residents for events like birthday and name-day parties, christening and first communion receptions. All three rooms of the club are connected by a corridor, which also serves as the estate's exhibition gallery promoting the resident's activities, initiatives and creativity.
It is a place like no other on Krakow's residential map. We are planning to increase its surface up to 1000 m² in the subsequent phases of the estate's development.
04
plentiful greeneries
The Visionaries Estate is intended as a place of fulfilling and comfortable life and not only mere residence. This is why we made sure to allocate large surfaces of the Estate for the purpose of biodiverse greeneries and lawns.

All of this is intended to be so much more, than an aesthetic measure. It allows for rest and recreation in direct contact with nature just outside our resident's dream home. All they have to do is step out their doorstep, and they can lie down on a blanket on the grass or sit on a bench in the shade of a tree. To make this possible we've applied specific constructional solutions that allow for the growth of trees with large root systems and removed all motor traffic from the common areas making them collision-free. Abundant trees are complimented with a variety of other plants – detailed landscaping design permeates the many open areas between buildings.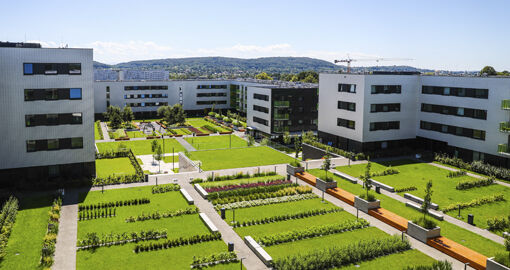 05
large distances between buildings
Residents' comfort, quality of common areas... Developer sweet-talk? Large distances between buildings and their wings ensure full privacy and comfort for the residents.

In the Visionaries' Stage the distance between the Northern and Southern wing is 41.5 meters, and between the Western an Eastern wing is 67.5 meters. All that with a total height of only 13 to 16 meters in the tallest part of the building.
The structure of the second stage includes a large 8500 m², inner courtyard filled with various vegetation, both high and low, and private owned gardens pertaining to ground floor apartments. The quality of the space is also improved by street furniture including comfortable wooden benches and impressive lighting. An interesting modern playground made out of safe materials is also located there.
In other stages the buildings are also apart multiple times further than the required norms dictate. As unorthodox this may be in contemporary multiple family real estate, we are proud that our residents deliberately choose our development as a paragon for new urban design.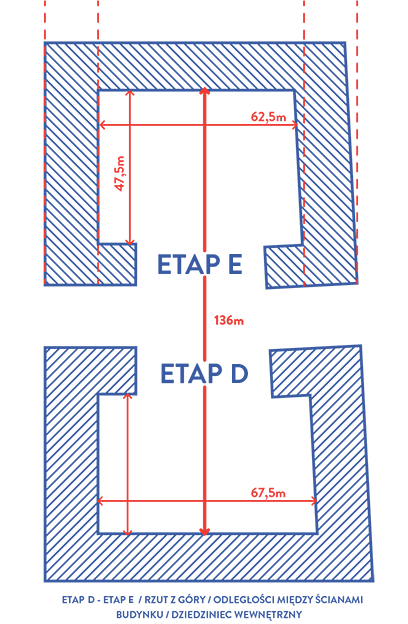 06
low density development
One of the many advantages of low density development is the large distance between buildings and consequently full sunlight exposure.

The buildings are lower and the distances between them larger than in standard urban zoning. This gives our residents a plentiful light exposure of their apartments and large accessible areas between buildings full of natural sunlight. These areas comprise of dedicated greeneries, playgrounds and walkways.
By distancing them from one another we eliminate the risk of overshadowing some buildings by others, which is definitely unusual in downtown urban zones. In city centers the distance of any building from another can even be smaller than half its height.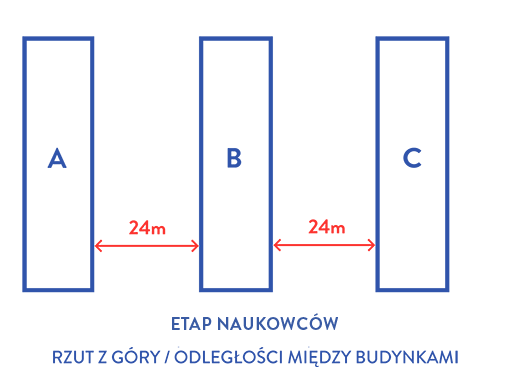 07
ceilings higher than the average
The apartments we offer have ceilings at a comfortable height of up to 2.65 m on the upper floors and up to 2.80 m in ground floor apartments.

The official standard requirement for family development, in comparison, is only 2.50 m. Nevertheless we offer residents of our housing estate ceilings higher than the norm, because such solutions can drastically increase the quality of living and arrangement options in these apartments.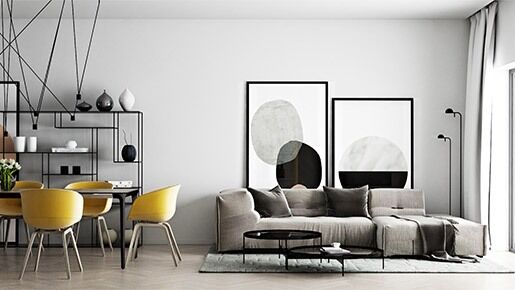 08
new road network in the estate
Only very few developers, like ourselves, can guarantee their residents the possibility of reaching each stage without the risk of getting their shoes muddy. As we set out to plan the investment we told ourselves that "roads must come before the buildings".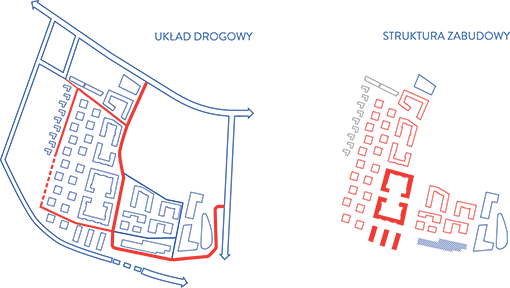 In the process of constructing the Live in the City - Visionaries Estate we built 1780 meters of new public roads financed entirely by Henniger Investment S.A. We have connected Radzikowska street with Armii Krajowej street bypassing the Rondo Ofiar Katynia roundabout. This solution allows for quick and comfortable access to the estate. It also provides an excellent link to these large motorways making our development probably the best communicated housing estate in all of Krakow. Reaching the city center and main railway station by car takes only 15 minutes, the Balice airport takes 12 minutes, the city ring-road – 7 minutes and local large commerce centers like IKEA, the Bronowice shopping mall, Castorama, OBI, and Lidl – only 3 minutes.
09
more than just parking
The number of parking spaces is larger than the number of apartments, electricity sockets for powering electric cars are available, and so is a system of comfortable transportation of groceries from the car.

By moving all parking underground we wanted to keep the space between buildings free from cars and thus available to all residents for recreation, relaxation in greeneries and among street furniture. This is why, by design, there is more parking spaces than apartments and they are all located in underground garages. In practice the estate has 12 parking spaces for every 10 apartments located in underground garages, some of which are adapted to the needs of people with disabilities. In an effort to fight climate change in some parking spaces electricity sockets were made optionally available.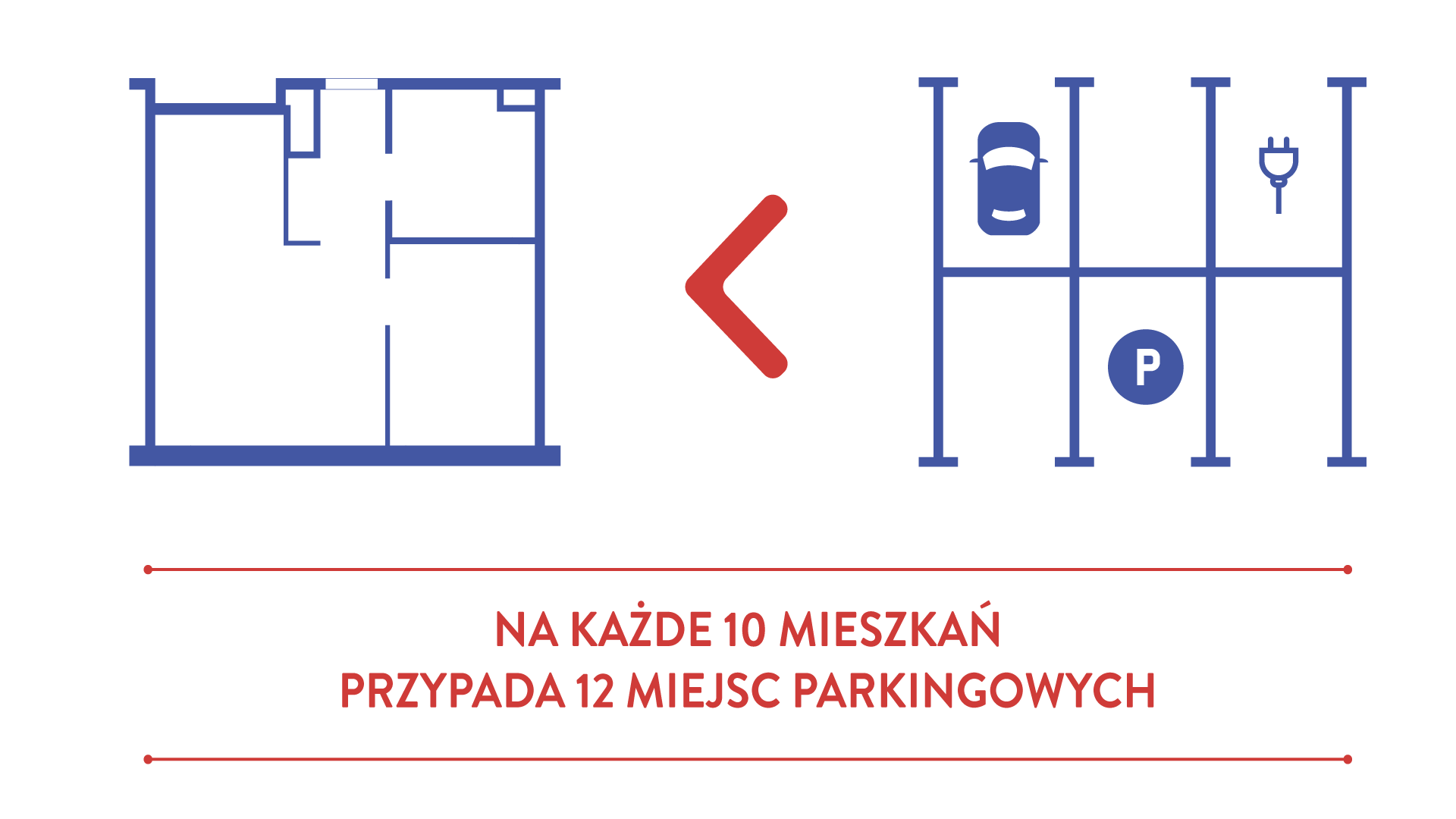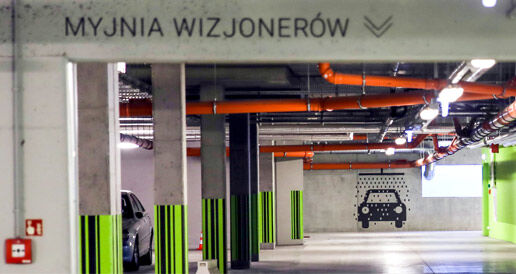 A self service car-wash operates in the underground garage of Building D of the Visionaries' Stage. Furthermore all stages of the estate will be equipped with shopping carts in order to help with transporting groceries and heavy or unwieldy shopping bags from the car trunk to the doorstep of the apartment.
Parking for residents in designated parking spaces in underground garages is not the only option, however. 66 freely available parking spaces for guests were created along the Visionaries' street. In the direct vicinity of the estate a multi-story Park&Ride parking lot integrated with the public transportation system is planned just beside the Szybka Kolej Aglomeracyjna train station, which was opened in June 2020.
010
VIS
Our Visual Identification System (VIS) isn't just about painting numbers on staircase entrances, apartment doors or parking spaces.

A deliberate and well designed identification system is one of the things that makes our estate stand out. The design was made specifically for each stage and makes the usually boring technical areas, like parking spaces and passageways become warmer and more inviting without losing its primary function – helping our residents and their guests find their way around the estate. At the same time it showcases our attention to detail and makes the spaces we designed more attractive and aesthetic.
011
durable and elegant facade materials
The diversity of materials used in the facade and some very innovative architectural solutions underline the unique character of each of the Stages of the Visionaries Estate.

The buildings' exterior in the Visionaries' and Actors' stage is finished with clinker bricks. Clinker is a natural material resistant to fire, chemical and biological corrosion, impervious to all sorts of fungi, moss or algae, which may be responsible for many allergies. This material guarantees durability and resistance to dirt and the elements. It will stay pretty in the upcoming years and even decades.
The F and G buildings of the Composers' stage are covered with a modern ventilated façade which allows for a better breathability and moisture management of the buildings' outer walls. Thermal insulation is guaranteed by a significant 22 cm thick layer of mineral wool covered with Hairplan cladding and Corten steel plating, which make the buildings stand out with their unorthodox aesthetic.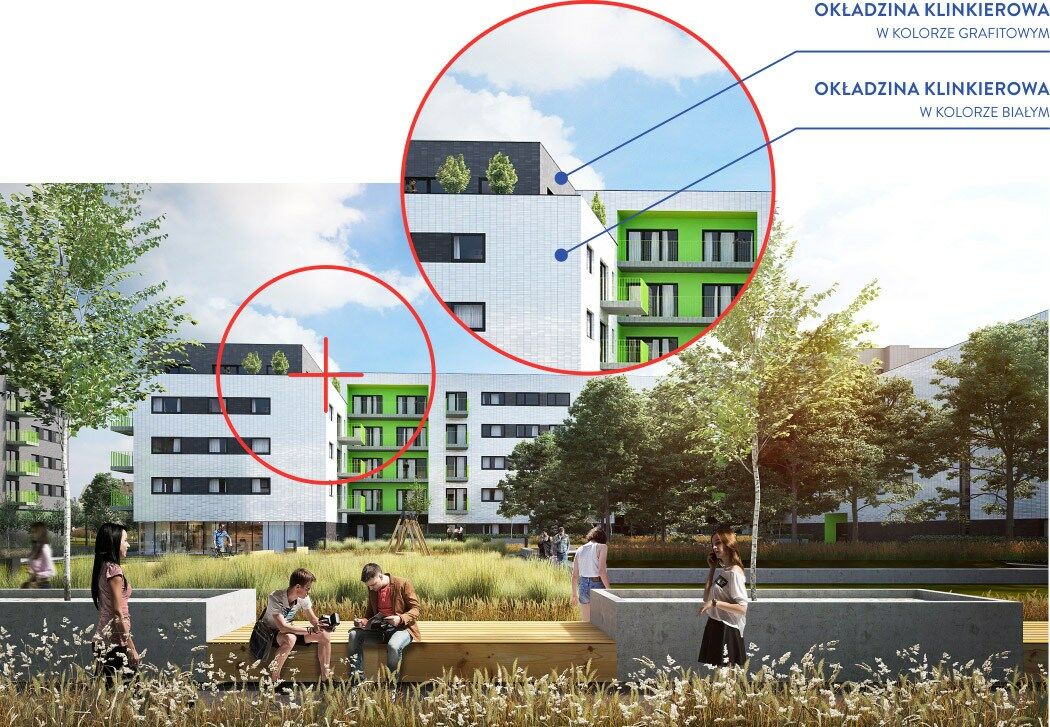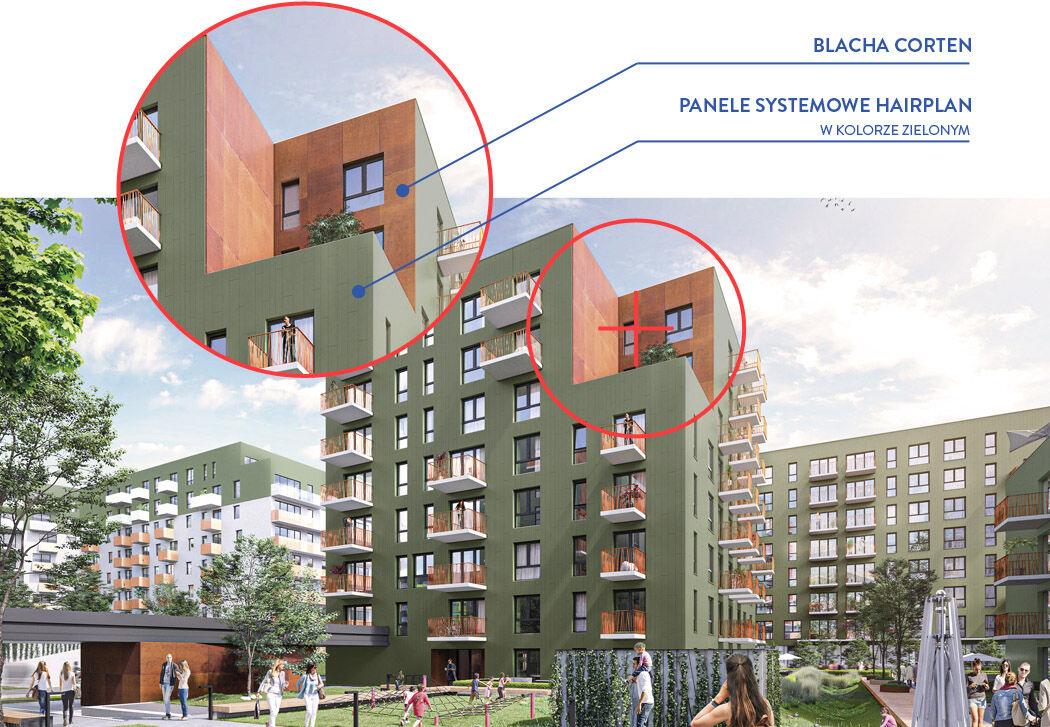 012
effective thermal solutions
Third glass is the charm. Wall-like windows. Transparent.

Triple glazed windows have exceptional thermal insulation characteristics and significantly lower the cost of heating in the winter. They have a lower rate of heat transmittance which allows to keep apartments cooler in the summer. During the winter they give a quantifiable benefit by helping to keep the heating bills in check.
The developer standard apartments we have to offer are all fitted with energy efficient windows with triple glazing in sealed assembly. By using vapor resistant and vapor permeable foil, this solution limits the extent of thermal bridging on the interface of window and wall. Both heat performance and acoustic performance of these window units fall well within required standards.
013
advanced technological solutions
Technological solutions are all those things that are not obviously visible, but stem from a deep care for practicality and ease of use. In the MWM Visionaries Estate the solutions applied exceed common standards.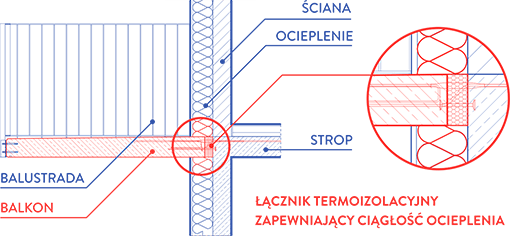 Balconies are fitted with state of the art thermal insulation called thermally insulated connectors. From a structural point of view where balcony tiles contact outer walls, areas of higher thermal transmittance occur causing heat to escape from adjacent rooms. These are called thermal bridges. They may lead to moisture building up and mold forming in the walls especially in corners adjacent to the balconies.
The problem of thermal bridging may be remedied by the use of thermally insulated connectors. These are structural load-bearing elements of a balcony which also provide thermal insulation properties. They ensure an uninterrupted insulation of the outer wall of a building along its full length.
Thanks to the use of thermally insulated connectors rooms adjacent to balconies do not lose heat to the balcony slabs, and heating costs are lowered.
The outer part of our buildings is not the only place were our attention to detail makes living in the estate more comfortable and functional. The elevators fitted in the Composers and Actors stages move as fast as 1.6 m/s. That's an undeniable convenience! The solutions we apply raise the quality of life for our residents by allowing them to quickly and easily cover the route to and from their apartment even a couple times a day. That is significant time saving.