01
architecture for years
Live in the City - Banach's Retreat is a cosy development in the heart of Górka Narodowa, a quiet and perfectly situated part of Cracow.
It will comprise only 108 apartments located in two six-storey buildings (ground floor and 5 floors) with a timeless design drawing its inspiration from art déco.
Although classical and soft, the exterior of the buildings captures the eye with numerous decorative elements which give it a distinctive character, including the durable, elegant clinker finishing. Due to the specially designed Visual Identification System, we have also made sure that the shared spaces inside the buildings are equally attractive and unique. Either of the two staircases features a modern lift, which is the fastest solution currently available on the market. The construction is due to finish in the fourth quarter of 2023.
All single-, two-, three- and four-room apartments with functional layouts between 27 m2 and 96 m2 will have comfortable and spacious balconies or gardens as well as terraces in case of duplex apartments. Every flat will not only be prepared to install air-conditioning but also fitted with big windows providing proper lighting of the interior. What makes the diversified offer even more distinctive is: 64 underground, 44 overground parking spaces as well as 34 storage spaces.
The new investment is being developed by Henniger Investment S.A., which is also creating the self-sufficient "Live in the City - Visionaries Estate" - a multiple winner of the European Property Awards, designed by the renown architectural studio Medusa Group.
Banach's Retreat is the answer to the expectations of all those who wish to live in the north part of Cracow but at the same time are looking to make an investment into a perfectly-sized apartment, with a universal layout and the unwavering quality offered by "Live in the City".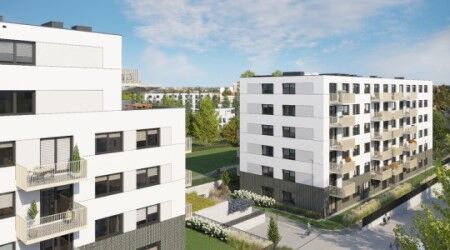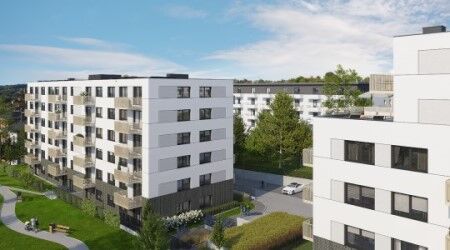 02
your space
Live in the City - Banach's Retreat reaches out to meet the dynamically changing demands of the contemporary world.
The speed of life and job opportunities have been motivating people to migrate to big cities for years. At the same time, the hustle-and-bustle of the city along with the increasing number of external stimuli have resulted in an even greater need for rest and relaxation.
Surrounded by urban infrastructure, our development combines a high standard of life with the good work-life balance that being close to nature can offer. All of that makes it possible to find in our offer an apartment perfectly suited to the needs of:
- families with children who need 3 or 4 rooms and would appreciate the proximity of schools, kindergartens and nurseries,
- couples who are only just beginning to climb the property ladder hoping that one day they will build a detached house in the suburbs,
- singles who live a dynamic life and expect a studio apartment that would be easy to arrange and offers a convenient commute to the center,
- seniors who wish to have an apartment with a garden where they would be relaxing surrounded by nature.
The numerous advantages that make Banach's Retreat such an attractive place for various groups of future residents include among others:
- a quiet neighborhood offering the residents a chance to relax with a direct proximity of Jordan Park, where children can use a playground;
- less than a kilometer from Witkowice Forest Park with approx. 16 hectares of green areas with hiking trails and bicycle lanes;
- picturesque views of the panorama of Cracow and clean air that aerates the whole neighborhood situated on a hill;
- a perfectly communicated location in Prądnik Biały, which offers the residents a short distance to the city infrastructure as well as to the station of the fast tram railway, whose construction began in 2020 (the local authorities are also planning to build Prądnik Czerwony station along with a park & ride car park as part of the development of the Fast Municipal Railway);
- very good transport links not only with the other districts of the capital city of Małopolska but also with the rest of the region thanks to the estate's proximity to Opolska Street and 29th November Avenue, currently under construction, which will facilitate access to the ring road to the north of Cracow and the express way S7 to Warsaw.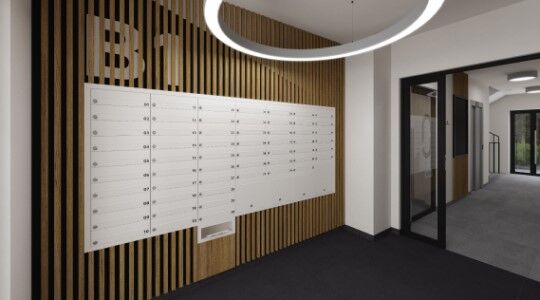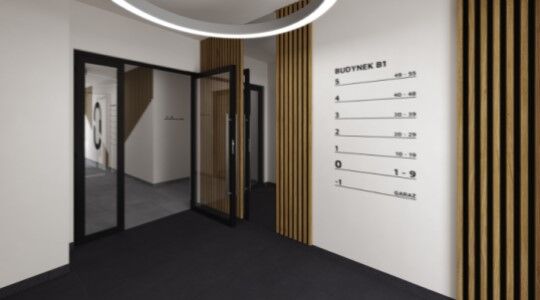 03
availability of services
Live in the City is not just an advertising slogan - it is a brand at whose foundation lies the availability of services.
Developing our flagship investment in Cracow - Visionaries Estate, has always been aimed at creating a self-sufficient district with the area of over 20 hectares, based on the concept of the 15-minute city. We are kindly inviting you to see the estate with your own eyes when visiting our Sales Office. You are surely going to notice that for us the consistency in developing an ideal place to live is paramount and something that we would like to implement in all our future investments.
Due to the proximity of the already existing and recently erected buildings in this part of Prądnik Biały, Banach's Retreat can offer you closeness to all most urgently needed infrastructure. Within just a few minutes' walking distance you will be able to get to:
- a nursery and a sports and language kindergarten,
- private nurseries,
- a public kindergarten,
- a private arts kindergarten,
- a primary school,
- a medical facility "We care about moms" ("Dbamy o mamy"),
- a clinic with doctor's offices and dental care,
- a pharmacy,
- a cafe,
- a restaurant,
- a convenience store,
- a delicatessen,
- a grocery store,
- a church,
- a beauty salon,
- a hair salon,
- a postal services facility.
Moreover, a few minutes away by car, you will also find:
- Biedronka,
- Lidl,
- petrol stations,
- a hospital,
- a gym/fitness center,
- a football pitch,
- a sports center,
- an aqua park,
- "Dworek Białoprądnicki" Culture Center,
- Multikino,
- shopping centers: Krokus and Serenada,
- OBI,
- Castorama,
- McDonald's,
- restaurants and much more.